4 articles in Chapter fifty: Shaving the Chic way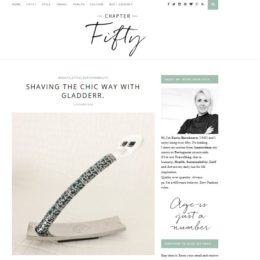 In oktober 2016 the first article about GLADDERR was published on the website of chapterfifty.
New! A very chic and long-lasting (therefore sustainable) steel razor. Why didn't anyone came up with this idea before? Been shaving since prehistory with those ugly plastic (pink! blue! why?) razors. No more.
Gladderr is a stainless steel handle with adjustable steel tubes in different styles as in stone, pearl or enamel and is the new luxury razor reference. This one screams to be seen, no need to store in a drawer. The Gladderr (don't know about the name, though) device is another Dutch original, ready to conquer the shaving world. Female or male.
Related