The Perfect Wedding: Super: the luxurious shaving experience of GLADDERR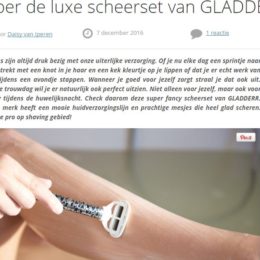 Us ladies are always busy with skin care. Whether you go to the office with a bun in your hair or a smart color on your lips or you make yourself beautiful for a nice night out. When you take good care of yourself, it shows! On your wedding day of course you want to look perfect. Not only for yourself, but also for your buddy for the wedding night. That's why you should check out the super fancy shaving handles of GLADDERR. This great, fantastic brand has a very exclusive cosmetic line and wonderful shaving handles that shave very smoothly.
A real must have in shaving!